Self-Managed Abortion
Resources to share information about SMAfrom New York City for Abortion Rights and the Reproductive Justice Collective NY
Print and Share Our SMA Zine!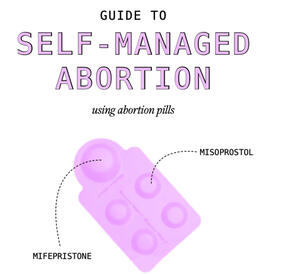 "Abortion Is Ours: Self-Managed Abortion and Organizing For Abortion Now"
Revolutions Per Minute podcast episode featuring information from NYCFAR on how New Yorkers can support and organize for self-managed abortion access.
Print out and share our bilingual Spanish/English flyer for spreading SMA information in New York!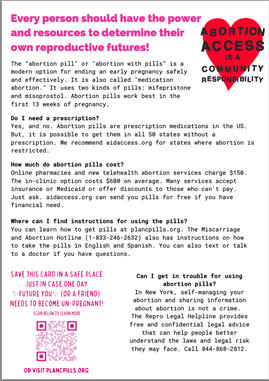 click on the image above to download the printable PDF
Checklist for SMA w/ Pills
Remember to not give direct 'advice' and instead talk generally and in the third person.
Information below from SASS (abortionpillinfo.org)
Before an Abortion
Confirm the pregnancy through a test or ultrasound.

Calculate weeks of pregnancy (from first day of last menstruation).

Any contraindications? (Medical condition, IUD)

Make a plan: Have someone with them, get ibuprofen and anti-nausea medicines, identify a comfortable place and make arrangements for childcare, a day away from activities, etc.

Be no more than 2 hours away from medical care in case of emergency.

Confirm that the pregnant person is deciding for themselves to use abortion pills.
Giving information
Explain the protocol (how many pills and how to use)

Explain what to expect: usual side effects (chills, light fever, diarrhea, vomiting), and when to expect onset of bleeding, cramping, and expulsion of pregnancy.

Explain the signs of rare complications (excessive bleeding, high fever, vaginal discharge, severe pain that isn't relieved with painkillers).

Describe what to do if no bleeding (confirm quality of medicines, rule out ectopic pregnancy, confirm the length of the pregnancy and repeat the procedure if appropriate).

Clarify how to identify that the abortion was successful. (changes in pregnancy symptoms, pregnancy test after 3 weeks or an ultrasound)
Aftercare
Expect light bleeding for 9-14 days

Nothing in the vagina for 2 days

Able to start the use of contraceptives right away

Confirm end of pregnancy (pregnancy test 3-4 weeks later or ultrasound)
---
Information above combined from SASS, YouthAsc, Women Help Women, and Plan C Pills. We're so grateful for their work!
---